In Kami you play as an origami bird whose children have been lost in a storm. In order to find them again, you need to follow the hoops. We wanted to create a game for all ages so we added a tube that the bird would always follow to make it playable for all ages. We added a second game mode where the player was to fly as fast as possible making it more of a challenge for players looking for that.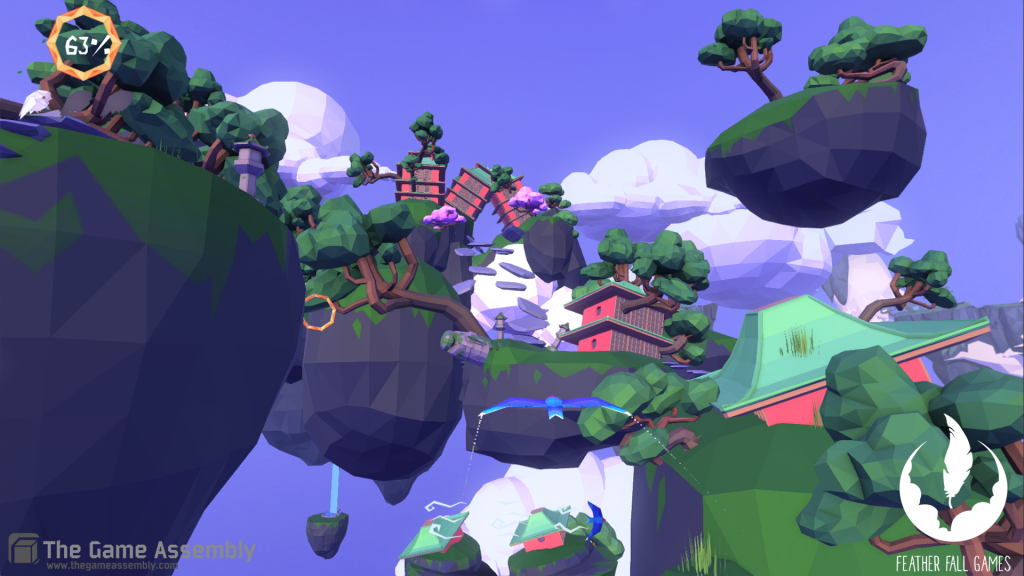 Creating diffrent enviroments with the same assets
We made four levels that we wanted to look and play differently. We used the same assets in all the levels. One level was a small village, we looked at pictures from old Villages and tried to recreate the space planning. Creating a church area, farming area and something resembling a square. For another level, we wanted to create an abandoned Village. We rotated all the buildings and placed trees in them as if it was overgrown. One level was to resemble a mountain where I scaled up the islands we used previously. To look like high mountain islands. The last level was a dense forest where were consistent with creating a wild feeling with roots going between platforms. It was very fun to create different feelings in a level with the same assets.
Final thoughts and reception
The game was well received and people enjoyed the levels and the different environments. I think we achieved our goal to make player relaxed when they played. The graphics of the game was very highly praised. I think it was a combination of great work from our graphical artists and our way of using the models. I think we succeeded in making levels fun to play for both players looking for a challenge and the ones looking for a relaxing experience.